Mosquitoes… abound and around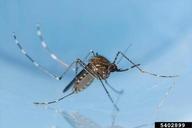 Now that the weather is warming up in Fremont,  this is a very good time to check your property for any standing water sources that the pesky little critters can breed in, it can take as little as 24 hours from egg to feeding adult. The females are the ones that bite!
There is no related post.